Embracing Ambiguity: A Workforce Training Plan for the Postpandemic Economy
3h 30m

Michael Edmondson
Business Expert Press
2021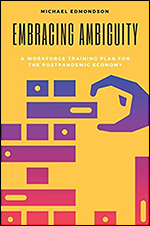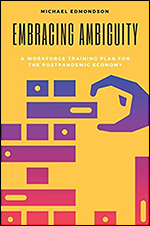 Embracing Ambiguity fills a tremendous need in today's chaotic marketplace by providing a timely, impactful, and relevant self-directed training program designed to enhance the essential skills employees need to embrace today's ambiguity. By engaging in self-directed learning employees will increase their self-awareness, further their sense of the world around them, and reflect on the intersection of the two.
Required reading for individuals from small-to-medium sized businesses, large corporations, non-profit organizations, and government offices, Embracing Ambiguity offers employers and employees alike a valuable resource to use as they chart a course forward in a post-pandemic marketplace.
About the Author PhD, Dean of Professional Education and Lifelong Learning at New Jersey City University in Jersey City, New Jersey. --This text refers to an out of print or unavailable edition of this title.
In this Book
Preface

The Impact of COVID-19

Leveraging Agility

The Significance of Self-Awareness

Embracing Ambiguity

Essential Skills

The Embracing Ambiguity Training Program

Essential Skill 1—Accept the Existence and Permanence of Chaos

Essential Skill 2—Challenge Assumptions to Think Differently

Essential Skill 3—Connect and Empower Others

Essential Skill 4—Demonstrate a Strong Work Ethic

Essential Skill 5—Experiment With Your Life

Essential Skill 6—Get Comfortable in Uncomfortable Situations

Essential Skill 7—Manage Stress and Anxiety

Essential Skill 8—Understand the Role of Nuance

Essential Skill 9—Remain Open to the Unfolding of Life

Essential Skill 10—Remind Yourself Destiny Is a Matter of Choice

Conclusion

Notes

References