Handbook of Research on Technologies and Systems for E-Collaboration During Global Crises
9h 40m

Jingyuan Zhao, V. Vinoth Kumar
IGI Global
2022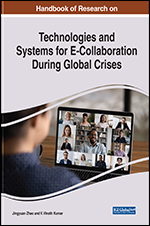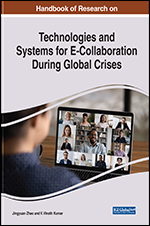 Necessity is the mother of invention; challenging times can provide new opportunities that must be detected and exploited at the right moments. The COVID-19 pandemic has demonstrated that it is not only an issue of healthcare but also a challenge for the global economy, business, and society. Organizations have rapidly deployed technology solutions that enable them to work and service remotely and continue most of their normal operations.
The Handbook of Research on Technologies and Systems for E-Collaboration During Global Crises focuses on emerging technologies and systems, strategies, and solutions for e-collaboration. This book assesses the importance of technologies and systems for e-collaboration in dealing with emerging crises such as pandemics. Covering topics such as deep learning processes, machine vision, and profit-sharing models, it is an essential resource for computer scientists, public officials, engineers, students and professors of higher education, healthcare administration, programmers, researchers, and academicians.
About the Author
Jingyuan Zhao is a Research Fellow at the Department of Political Science, University of Toronto. She was a professor at School of Management, Beijing Union University, China. Her PhD is in Management Science and Engineering from the Chinese Academy of Sciences and University of Science and Technology of China. She completed two Postdoctoral Programs in Technology Economy and Management from Harbin Institute of Technology, China, and Management of Technology from University of Quebec at Montreal, Canada. Dr. Zhao's expertise is on regional innovation management, high-tech industry cluster, knowledge management, technology diffusion, organizational learning.
V. Vinoth Kumar is an Associate Professor in the Department of Computer Science and Engineering in MVJ College of Engineering, Bangalore, India. He is a highly qualified individual with around 8 years of rich expertise in teaching, entrepreneurship, and research and development with specialization in computer science engineering subjects. He has been a part of various seminars, paper presentations, research paper reviews, and conferences as a convener and a session chair, a guest editor in journals and has co-authored several books and papers in national, international journals and conferences. He is a professional society member for ISTE, IACIST and IAENG. He has published more than 15 articles in National and International journals, 10 articles in conference proceedings and one article in book chapter. He has filed Indian patent in IoT Applications. His Research interest includes Mobile Adhoc Networking and IoT.
In this Book
Preface

Deep-CNN Model for Acute Lymphocytic Leukemia (ALL) Classification Using Microscopic Blood Images—Global Research

A PCCN-Based Centered Deep Learning Process for Segmentation of Spine and Heart—Image Deep Learning

Multilingual Novel Summarizer for Visually Challenged Peoples

India's Remote Medical Monitoring System Using Big Data and MapReduce Hadoop Technologies—Big Data With Healthcare

A Secure and Effective Image Retrieval Based on Robust Features

Computer Vision for Weed Identification in Corn Plants Using Modified Support Vector Machine

AI-Based Motorized Appearance Acknowledgement Scheme for an Attendance Marking System

Analysts and Detection of Concealed Weapons Using lR Fusion With MMW Support Imaging Technology

Detection and Identification of Employee Attrition Using a Machine Learning Algorithm

IoT-Based Design and Execution of Soil Nutrients Monitoring

Efficient Data Verification Systems for Privacy Networks

Profit Sharing Models for Social Media in Big Data Commercialized Crises

Study of Social Media Indulgence Among College Students in UAE and Kuwait—Case Study

Efficient Data Clustering Techniques for Software-Defined Network Centres

Hybrid Clustering Technique to Cluster Big Data in the Hadoop Ecosystem—Big Data Application

Planning a Three-Year Research Based on the Community of Inquiry Theory—An Approach to Monitor the Learning of English as a Second Language in the EU Academic Environments

Mining Perspectives for News Credibility—The Road to Trust Social Networks

Design and Develop a Decision-Making Assistance Model for Agriculture Product Price Prediction—Deep Learning

Prediction and Prevention of Malicious URL Using ML and LR Techniques for Network Security—Machine Learning

Security Challenges in Internet of Things

A Forensic Way to Find Solutions for Security Challenges in Cloudserver Through MapReduce Technique

The Interaction Between Technologies, Techniques, and People in Higher Education Through Participatory Learning

Blockchain-Based Incentive Announcement Network for Communications of Smart Vehicles

The Categorization of Development Boards to Implement the Embedded Systems and Internet of Things With Cloud Database for Volcano Monitoring Drones

Autonomous Robotic Technology and Conveyance for Supply Chain Management Using 5G Standards

E-Collaboration for Management Information Systems Using Deep Learning Technique

Compilation of References