Eight Paradoxes of Great Leadership: Embracing the Conflicting Demands of Today's Workplace
3h 34m

Tim Elmore
HarperCollins Leadership
2021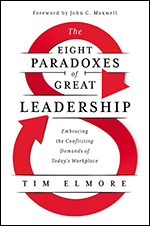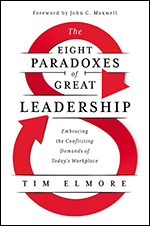 Become a next generation leader—rich in emotional and social intelligence and orchestrating outstanding collaborative results—by mastering these eight status quo-shattering paradoxes.
The Eight Paradoxes of Great Leadership unpacks the fresh strategies and new mindset required today from a next generation leader.
Author Dr. Tim Elmore helps leaders of all kinds navigate increasingly complex, rapidly changing environments, as well as manage teams who bring a range of new demands and expectations to the workplace that haven't been seen even one generation prior.
After working alongside John C. Maxwell for twenty years, Tim offers counter-intuitive paradoxes that, when practiced, enable today's leader to differentiate themselves and better connect with their team and customers. The book furnishes ideas that equip leaders to inspire team members in a way a paycheck never could.
Having trained hundreds of thousands of young professionals to develop into leaders—Dr. Elmore shares the secrets of next generation leaders who have practiced the unique paradoxes outlined in this book and inspired their team members in a way that a paycheck never could.
In The Eight Paradoxes of Great Leadership, readers will:
Learn how today's team members require a combination of different qualities from their leaders than they did in even the recent past;
Grasp the importance of eight key paradoxes that are critical for next generation leaders to put into practice right now;
Be inspired by historic and modern-day leaders who lived the eight paradoxes; and
Understand how they too can lead with the eight paradoxes, guiding them to emotional and social intelligence that resonates with their teams and leads to outstanding collaborative results.
About the Author
Dr. Tim Elmore is the founder and CEO of Growing Leaders (www.GrowingLeaders.com), an Atlanta-based nonprofit organization created to develop emerging leaders. Since founding Growing Leaders, Elmore has spoken to more than 500,000 students, faculty, and staff on hundreds of campuses across the country, including the University of Oklahoma, Stanford University, Duke University, Rutgers University, the University of South Carolina, and Louisiana State University. Elmore has also provided leadership training and resources for multiple athletic programs, including the University of Texas, the University of Miami, the University of Alabama, The Ohio State University, and the Kansas City Royals Baseball team. In addition, a number of government offices in Washington, D.C. have utilized Dr. Elmore's curriculum and training.
From the classroom to the boardroom, Elmore is a dynamic communicator who uses principles, images, and stories to strengthen leaders. He has taught leadership to Delta Global Services, Chick-fil-A, Inc., The Home Depot, The John Maxwell Co., HomeBanc, and Gold Kist, Inc., among others. He has also taught courses on leadership and mentoring at nine universities and graduate schools across the U.S. Committed to developing young leaders on every continent of the world, Elmore also has shared his insights in more than thirty countries--including India, Russia, China, and Australia.
Tim's expertise on emerging generations and generational diversity in the workplace has led to media coverage in The Wall Street Journal, Forbes.com, Investor's Business Daily, Huffington Post, MSNBC.com, The Washington Post, WorkingMother.com, Atlanta Business Chronicle, Dallas Morning News, and Portfolio.com. Tim has appeared on CNN's Headline News and FOX & Friends discussing parenting trends and advice.
In this Book
Introducing the John Maxwell Imprint

Foreword by John C. Maxwell

Paradoxical Leadership in a Complex Age

Uncommon Leaders Balance Both Confidence and Humility

Uncommon Leaders Leverage Both Their Vision and Their Blind Spots

Uncommon Leaders Embrace Both Visibility and Invisibility

Uncommon Leaders are both Stubborn and Open-Minded

Uncommon Leaders are both Deeply Personal and Inherently Collective

Uncommon Leaders are both Teachers and Learners

Uncommon Leaders Model Both High Standards and Gracious Forgiveness

Uncommon Leaders are Both Timely and Timeless

A New Kind of Leader

Endnotes
YOU MIGHT ALSO LIKE
Rating 4.6 of 65 users
(65)
Rating 4.6 of 81 users
(81)