Handbook of Research on Artificial Intelligence in Government Practices and Processes
10h 50m

Felipe Debasa, Jose Ramon Saura
IGI Global
2022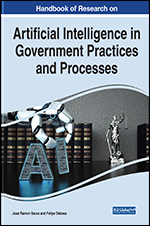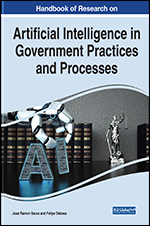 In today's global culture where the internet has established itself as a main tool of communication, the global system of economy and regulations, as well as data and decisions based on data analysis, have become essential for public actors and institutions. Governments need to be updated and use the latest technologies to understand what society's demands are, and user behavioral data, which can be pulled by intelligent applications, can offer tremendous insights into this.
The Handbook of Research on Artificial Intelligence in Government Practices and Processes identifies definitional perspectives of behavioral data science and what its use by governments means for automation, predictability, and risks to privacy and free decision making in society. Many governments can train their algorithms to work with machine learning, leading to the capacity to interfere in the behavior of society and potentially achieve a change in societal behavior without society itself even being aware of it. As such, the use of artificial intelligence by governments has raised concerns about privacy and personal security issues. Covering topics such as digital democracy, data extraction techniques, and political communications, this book is an essential resource for data analysts, politicians, journalists, public figures, executives, researchers, data specialists, communication specialists, digital marketers, and academicians.
About the Author
Jose Ramon Saura research has focused on the theoretical and practical insights of various aspects of User Generated Content (UGC), with a specific focus around three major research approaches applied to business and marketing: data mining, knowledge discovery and information sciences. International Ph.D. in Business Economics at the Rey Juan Carlos University, London South Bank University (LSBU) and Harvard University (RCC). He is a Marketing Lecturer of the Department of Business Economics at the Rey Juan Carlos University, lecturing at the Faculty of Social Science and Law of Madrid. He has published articles focused on areas such as Business, Management, Computer Sciences, Multidisciplinary or Information Sciences, among others. His research has appeared in leading international journals such as the Journal of Business Research, International Journal of Information Management, Journal of Business & Industrial Marketing, Review of Managerial Sciences, Journal of Innovation and Knowledge, Journal of Mobile Communication, IJERPH or IEEE Access. Jose Ramon Saura serves on editorial and reviewer boards of a number of business and information sciences journals.
Felipe Debasa's lines of research are focused on the historical study of the political and legal foundations of the European Union and the relations of the European Institutions with the Republic of China. He is Director of the Master's Degree in the European Union and China at URJC and UDIMA University. Felipe Debasa studies the European Institutions and the Fourth Industrial Revolution in the political, economic, and Human Rights fields.
In this Book
Preface

Geopolitics, Governance, and AI

A Policy Framework Towards the Use of Artificial Intelligence by Public Institutions—Reference to FATE Analysis

Intersectoral Collaboration and Social Justice Concerns in Artificial Intelligence Implementation at the Community Level

Social Behaviour and Artificial Intelligence—The Myth of Sisyphus in Question

Algorithms, Social Rejection, and Public Administrations in the Current World

Artificial Intelligence in European Urban Governance

Digital Democracy—Political Communications in the Era of New Information and Communication Technologies

The Artificial Intelligence Implementation Challenge in the European Union and Spain

Main Government-Related Data Extraction Techniques—A Review

A Public Values Perspective on the Application of Artificial Intelligence in Government Practices—A Synthesis of Case Studies

The Role of AI in a Security and Population Control System—Chinese Social Credit System

Artificial Intelligence Adoption Among Nepalese Industries—Industrial Readiness, Challenges, and Way Forward

The Dark Side of Progress—Social and Political Movements Against Artificial Intelligence in Spain

Artificial Intelligence and Supply Chains After the Impact of COVID-19—To Expect the Unexpected

Ukrainian Social Realities and Emotivities in the Political Speeches of Yuliia Tymoshenko—A Data-Based Approach

Artificial Intelligence in Education as a Means to Personalize Learning

A Teaching Guide for the Use of Artificial Intelligence Tools at Universities—From Educator Skills to Practice Examples

Analysis on the Possibilities of AI in Education

How to Use Artificial Intelligence in Education?—Current Insights and Prospects for Government Initiatives

Compilation of References