Transforming a Federal Agency: Management Lessons from HUD's Financial Reconstruction
4h 36m

Irving L. Dennis
John Wiley & Sons (US)
2021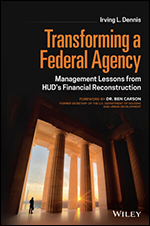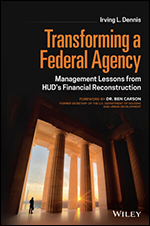 Discover how the author transformed a massive government department in just a few years and fixed seemingly unfixable problems
In Transforming a Federal Agency: Management Lessons from HUD's Financial Reconstruction, finance and strategy expert Irving (Irv) L. Dennis delivers an insightful and eye-opening exploration of the lessons he learned in bringing private sector experience to the transformation of the US Department of Housing and Urban Development's financial systems.
Pulled out of retirement after a 37-year career at Ernst & Young (EY), the author's tenure at HUD involved a rapid and surgical rejuvenation of their financial infrastructure. The book details the ten management areas he focused on and also includes:
The transformation process and the barriers and roadblocks the author encountered on his journey
Ensuring an enduring transformation even after changes in administration
Functional differences between the private sector and governmental organizations
How the author approached his first 100 days as Chief Financial Officer of the Department
Insights into the innerworkings of the Executive Branch of government
Perfect for government employees, finance professionals in the public and private sectors, and business students, Transforming a Federal Agency is a simultaneously fascinating and instructive journey through the remediation of seemingly intractable financial mismanagement.
About the Author
Irv Dennis is a strategic board member, advisor, executive, and financial expert. He is the former Chief Financial Officer of the United States Department of Housing and Urban Development and spent a 37-year career at Ernst & Young, LLP, retiring as a Senior Global Client Service Partner.
In this Book
Foreword from Former Secretary of HUD, Dr. Ben Carson

Introduction—What the Reader Can Expect

The Nomination Process

About HUD

HUD's State of Affairs

My First Hundred Days

Evaluation of Governance, People, Processes, and Technology (GPPT)

Understanding How it Got This Bad

Barriers to Success

Building the Platform for Success

Financial and IT Modernization

Coordination with Critical Service Providers

The Results—Where We Were in 2020

Making HUD's Transformation Sustainable

Differences Between the Private and Public Sectors

Final Thoughts—An Experience of a Lifetime
YOU MIGHT ALSO LIKE