Amplify Your Influence: Transform How You Communicate and Lead
6h 18m 33s

Rene Rodriguez
Gildan Media
2022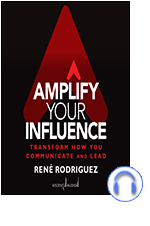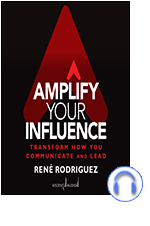 Apply the latest advances in neuroscience to your real-world persuasion and influence strategies for immediate results
In Amplify Your Influence: Transform How You Communicate and Lead, celebrated keynote speaker, trainer, and leadership coach Rene Rodriguez delivers an eye-opening roadmap to using applied neuroscience to improve listeners' communication ability, critical thinking, cultural awareness, and leadership skills.
Based in the author's proprietary AMPLIFII system and methodologies he has taught to over 100,000 participants around the world, the book offers practical tips, useful frameworks, guided practice, and simple application exercises to help listeners create new and lasting behaviors that effect change in their life and work.
Amplify Your Influence shows leaders how to:
Leverage various human motivators for positive outcomes and results
Frame and communicate their ideas in a way that encourages engagement and gets an active response
Intentionally choose a communication style based on their influence objective
About the Author
RENÉ RODRIGUEZ is a dynamic keynote speaker, leadership advisor, change management consultant, and renowned speaker coach. For the last 25 years René has researched and applied behavioral neuroscience to solve some of the toughest challenges in leadership, sales, and change. His company has trained over 100,000 leaders from companies including Coca-Cola, 3M, Wells Fargo, Cargill, Nestlé, Microsoft, and more.
In this Audiobook
Introduction

Chapter 1 - The Power of Influence

Chapter 2 - The Hidden Drivers of Influence

Chapter 3 - Sequence Is EVERYTHING

Chapter 4 - Self-Awareness and Discovery

Chapter 5 - Frames: Window into Your World

Chapter 6 - Frames in Action

Chapter 7 - Messages, Concepts, and Value Propositions

Chapter 8 - Tie-Downs: The Master Influencer's Secret Weapon

Chapter 9 - The Art and Science of Storytelling

Chapter 10 - Body Language and Presence

Chapter 11 - Interpersonal Communication: LOVE and Other Things

Chapter 12 - The Stress Factor

Chapter 13 - Putting It All Together and More