Geek Girls: Inequality and Opportunity in Silicon Valley
9h 33m 25s

France Winddance Twine
Recorded Books, Inc.
2022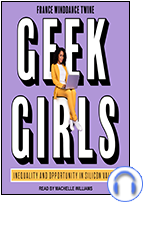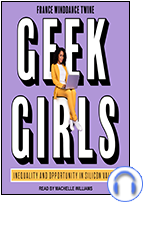 In Geek Girls, France Winddance Twine provides the first book by a sociologist that "lifts the Silicon veil" to provide firsthand accounts of inequality and opportunity in the tech ecosystem.
With a sharp eye for detail and compelling testimonials from industry insiders, Twine shows how the technology industry remains rigged against women, and especially Black, Latinx, and Native American women from working class backgrounds. From recruitment and hiring practices, to social and educational segregation, to academic prestige hierarchies, Twine reveals how women are blocked from entering this industry.
Twine argues that closed social networks and routine hiring practices described by employees reinforce the status quo and reproduce inequality. The myth of meritocracy and gender stereotypes produce a culture where the use of race-, color-, and power-evasive language makes it difficult for individuals to name the micro-aggressions and forms of discrimination that they experience.
Twine offers concrete insights into how the technology industry can address ongoing racial and gender disparities, create more transparency, and empower women from underrepresented groups.
About the Author
France Winddance Twine is professor of sociology at the University of California, Santa Barbara. She is the author and a coeditor of ten books, including Outsourcing the Womb: Race, Class and Gestational Surrogacy in a Global Market and A White Side of Black Britain: Interracial Intimacy and Racial Literacy.
In this Audiobook
Introduction

Chapter 1 - The Silicon Valley Caste System

Chapter 2 - Ideologies, Mythologies, and Realities

Chapter 3 - Black Geek Girls: Silicon Valley's 1 Percent

Chapter 4 - First-Generation Geek Girls

Chapter 5 - Second-Generation Geek Girls

Chapter 6 - Transnational Geek Girls: Mobile, Middle Class, and Upper Caste

Chapter 7 - All-Women Coding Boot Camps: An Alternative Route to Engineering Careers

Conclusion: The Tech Sisterhood and a New Movement for Equality