HBR Guide to Being a Great Boss
5h 12m 13s

Harvard Business Review
Gildan Media
2022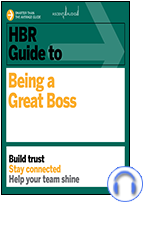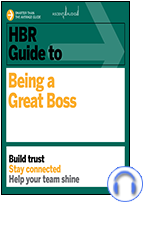 Are you a good boss—or a great one?
We know people don't leave jobs, they leave bosses. How can you be the type of boss that doesn't send employees running? One who makes your people happy to work for you?
You've got the basics covered. But can you raise your leadership level to be a boss who develops trust with their employees? How do you create a culture where learning—and failing—are OK? Can you go beyond evaluating performance and distributing bonuses once a year to finding ways to regularly share productive feedback—and recognize great work—in ways that work for the people who work for you?
You can meet the basic requirements of your job as leader and rise above to motivate the people on your team to do more—and be more—than they thought possible. Whether you're a first-time boss or you've been managing people forever and are looking for some new insights and inspiration, the HBR Guide to Being a Great Boss collects a variety of expert voices to share their advice on being a boss who sparks creativity, engagement, and collaboration. You'll learn how to magnify your people's strengths; communicate effectively—and regularly—with your team; cultivate trust; help your employees find meaning in their work; challenge your people to reach beyond their current limit; help struggling employees improve; and bring out the best in your people—and yourself.
About the Author
Harvard Business Review is the leading destination for smart management thinking. Through its flagship magazine, 12 international licensed editions, books from Harvard Business Review Press, and digital content and tools published on HBR.org, Harvard Business Review provides professionals around the world with rigorous insights and best practices to lead themselves and their organizations more effectively and to make a positive impact.
In this Audiobook
Chapter 1 - What Great Managers Do

Chapter 2 - Managing Authenticity: The Paradox of Great Leadership

Chapter 3 - Are You a Good Boss-or a Great One?

Chapter 4 - Do You Really Trust Your Team?

Chapter 5 - Open Up to Your Team-Without Oversharing

Chapter 6 - High-Performing Teams Need Psychological Safety

Chapter 7 - How to Handle a Disagreement on Your Team

Chapter 8 - What Great Listeners Actually Do

Chapter 9 - Give Your Team More-Effective Positive Feedback

Chapter 10 - The Right Way to Hold People Accountable

Chapter 11 - You Can't Be a Great Manager If You're Not a Good Coach

Chapter 12 - Four Reasons Good Employees Lose Their Motivation

Chapter 13 - Get Honest, Productive Feedback

Chapter 14 - How to Retain and Engage Your B Players

Chapter 15 - Managing Your Star Employee

Chapter 16 - Helping an Underperformer

Chapter 17 - How to Manage Someone You Don't Like

Chapter 18 - Get Over Your Fear of Talking About Diversity

Chapter 19 - How the Best Bosses Interrupt Bias on Their Teams

Chapter 20 - Managing a Hybrid Workforce

Chapter 21 - Build Trust on Your Cross-Cultural Team

Chapter 22 - Your Employees Want to Feel the Purpose in Their Jobs

Chapter 23 - Help Your Team Bounce Back from Failure

Chapter 24 - Managing an Employee Who's Having a Personal Crisis

Chapter 25 - Reduce the Stigma of Mental Health at Work

Chapter 26 - Make Work Less Stressful and More Engaging