HBR's 10 Must Reads on Performance Management
6h 37m 29s

Harvard Business Review
Gildan Media
2023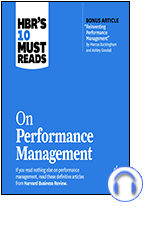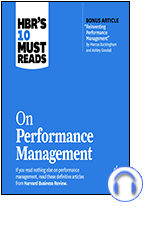 Performance management is changing. Adapt your approach along with it.
For decades, performance management has been seen as an annual chore by managers and HR alike. But this process is changing, and there are ways to make it more effective for your organization and more useful for employees.
If you read (or listen to) nothing else on performance management in your organization, listen to these ten articles. We've combed through hundreds of Harvard Business Review articles and selected the most important ones to help you assess performance more accurately, have more effective feedback conversations, and encourage the growth of your employees.
This book will inspire you to: learn where current performance management processes are falling short; create sustainable performance across the organization; deliver feedback that motivates and develops your team members; help your people reach their professional goals; identify your role in an employee's poor performance; and evaluate performance fairly, even in a remote environment.
About the Author
Harvard Business Review is the leading destination for smart management thinking. Through its flagship magazine, 12 international licensed editions, books from Harvard Business Review Press, and digital content and tools published on HBR.org, Harvard Business Review provides professionals around the world with rigorous insights and best practices to lead themselves and their organizations more effectively and to make a positive impact.
In this Audiobook
Chapter 1 - The Performance Management Revolution by Peter Cappelli and Anna Tavis

Chapter 2 - Reinventing Performance Management by Marcus Buckingham and Ashley Goodall

Chapter 3 - Getting 360-Degree Feedback Right by Maury A. Peiperl

Chapter 4 - The Set-Up-to-Fail Syndrome by Jean-Francois Menzoni and Jean-Luis Barsoux

Chapter 5 - Job Sculpting: The Art of Retaining Your Best People by Timothy Butler and James Waldroop

Chapter 6 - Performance Management Shouldn't Kill Collaboration by Heidi K. Gardner and Ivan Matviak

Chapter 7 - The Happy Tracked Employee by Ben Weber

Chapter 8 - Don't Let Metrics Undermine Your Business by Michael Harris and Bill Tayler

Chapter 9 - "Numbers Take Us Only So Far" By Maxine Williams

Chapter 10 - Managers Can't Do It All by Diane Gherson and Lynda Gratton

Chapter 11 - Creating Sustainable Performance by Gretchen Spreitzer and Christine Porath