Human-Centered Leadership in Healthcare
7h 29m 58s

Kay Kennedy, Lucy Leclerc, Susan Campis
Recorded Books, Inc.
2022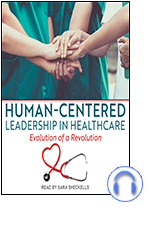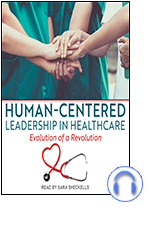 Human-Centered Leadership in Healthcare is a new leadership model based on the theory of complex systems.
It addresses the requirement for healthcare organizations to develop environments that produce market leading outcomes which demonstrate value for patients. Since healthcare is a human-centric industry, it requires care for the leaders, the staff, and the patients. The Human-Centered Leadership model embraces the leader's focus on self-care and mindfulness while simultaneously focusing outward on others. The leader, at the center, adopts the attributes of the Awakener, the Connector, and the Upholder which result in practices leading to sustained quality outcomes, patient, and staff satisfaction, and a healthy work environment. These practices and outcomes can be described as cultures of excellence, trust, and caring. The Human-Centered Leader in Healthcare understands that "It starts with you but it's not about you". Kay Kennedy, Lucy Leclerc, and Susan P. Campis's goal for Human-Centered Leadership in Healthcare is to develop the people who lead the people who care for the people.
About the Author
Kay Kennedy is passionate about cultivating nurse leaders. She has a DNP in Executive Leadership from MGH Institute for Health Professions and is board certified as an advanced nurse executive and a certified professional in healthcare quality. She has held multiple leadership positions, including the position of Chief Nursing Officer and VP of Patient Care Services. Kay has published articles in peer-reviewed journals on Human-Centered Leadership in Healthcare and currently teaches at the Nell Hodgson Woodruff School of Nursing at Emory University in Atlanta where she lives with her husband.
Lucy Leclerc is a nurse executive, entrepreneur, and assistant professor of nursing at Kennesaw State University where she teaches leadership, professionalism, and ethics. Lucy is a lifelong learner receiving her undergraduate nursing degree and PhD from Medical University of South Carolina in Charleston. Lucy's research focuses on nursing leadership in practice and in academia. She serves on the Editorial board of the Journal of Nursing Education and has published research in many peer-reviewed journals. She seeks to reveal what already exists within nurse leaders and nursing teams: excellence and professionalism. Lucy resides in Atlanta, Georgia.
Susan P. Campis began her nursing career as an ICU nurse and worked at the bedside for many years prior to accepting a formal leadership role. Her leadership roles have included nurse manager, director, and executive director. Her MSN degree focuses on leadership and management in nursing and she is board certified as a nurse executive. Susan is a nurse leader who has a passion for coaching and mentoring others. Her goal as a nurse leader is to create successful nursing teams by creating a safe and healthy work environment where the team can excel and perform at their best to ensure quality care and patient safety. She, along with her uLeadership colleagues, have published several articles in peer reviewed nursing leadership journals. Susan resides in Atlanta, Georgia.
In this Audiobook
Chapter 1 - Recognizing Humanity in a Complex World

Chapter 2 - Show Me the Evidence

Chapter 3 - The Human at the Center: The Journey to Self-Awareness

Chapter 4 - The Importance of Self-Care and Self-Compassion in a World Full of Burnout

Chapter 5 - Two Tigers, a Mouse, and a Strawberry: The Art of Mindfulness

Chapter 6 - But It's Not About You!

Chapter 7 - The Awakener: Developing a Culture of Excellence

Chapter 8 - The Connector: Creating a Culture of Trust

Chapter 9 - The Upholder: Cultivating a Culture of Caring

Chapter 10 - Emotional Intelligence: The Key to Human-Centered Leadership

Chapter 11 - Change Management: Expect the Unexpected!

Chapter 12 - Connecting the Three Cs: Competence, Capability, and Complexity

Chapter 13 - Reflective Practice: Learning from Experience

Chapter 14 - Innovation-The Power of Thinking Differently

Chapter 15 - Dealing with "Joy Interrupters"

Chapter 16 - Imagine What Could Be. . .