Leadership Team Alignment: From Conflict to Collaboration
9h 3s

Frederic Godart, Jacques Neatby
Recorded Books, Inc.
2023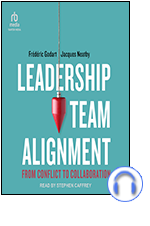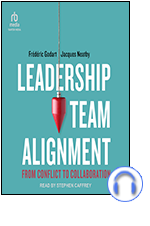 Debunking much of the received wisdom regarding the sources of leadership team dysfunctionality, Leadership Team Alignment presents a targeted strategy for building and managing a top executive team to gain competitive advantage. Frédéric Godart and Jacques Neatby bring a wealth of practical experience and in-depth knowledge, with over eight hundred hours of direct observation with more than fifty leadership teams across the globe and thousands of hours working with executives. With this book, they offer solutions to manage conflict and create environments that effectively address misalignments in organizations.
Godart and Neatby take listeners through the dual role of leadership team members, the challenges of power games, and the risks of siloed leaders. They give clear advice on how to improve aspects of any leadership team, based on its size and structure and the nature of the organization. While organizational challenges may be inevitable, this book provides leadership teams the tools to correctly diagnose leadership team misalignment, with evidence-based remedies and strategically oriented interventions to maximize organizational performance.
About the Author
Frédéric Godart is associate professor of organizational behavior at INSEAD, Fontainebleau, France, where he lectures on power and politics and network effects in organizations. His work has been featured in the Financial Times, the Harvard Business Review, the New York Times, and Forbes. He has previously worked at McKinsey & Company, where he was involved in multiple strategic studies for a wide range of clients from various industrial sectors.
Jacques Neatby is partner at MindLab and a North-America-based team expert. He has spent two decades advising the executive teams of leading multinationals in North America, Europe, and Asia, including as a special advisor to the leadership teams of the world's largest construction materials company.
In this Audiobook
Introduction: Why This Book, Who It's For, and What's in It for You

Chapter 1 - The Dual Role of Leadership Team Members

Chapter 2 - Power Games at the Top

Chapter 3 - Of Hubs, Spokes, and Silo Busting

Chapter 4 - Who Really Sits on Your Leadership Team, and What Is Its Role?

Chapter 5 - Getting Your Leadership Team's Size and Composition Right

Chapter 6 - Assess Your Leadership Team and Fix It

Conclusion

Appendix A: Assess your Leadership Team: What to Look for When Doing the Ten-Statement Assessment

Appendix B: Details of the POP's Process
YOU MIGHT ALSO LIKE
Rating 4.3 of 14 users
(14)
Rating 4.5 of 1054 users
(1054)
Rating 4.7 of 36 users
(36)