Navigate the Swirl: 7 Crucial Conversations for Business Transformation
8h 11m 23s

Richard Hawkes
Gildan Media
2022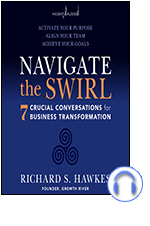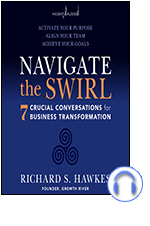 An actionable blueprint for transformational business journeys
Leading transformation in teams, businesses, and organizations is complex, and leaders are expected to know how to do it. This book provides the clear thinking required to navigate this challenge.
In Navigate the Swirl: 7 Crucial Conversations for Business Transformation, renowned growth and strategy leader Richard Hawkes delivers a simple and powerful framework that any team can apply to overcome the most common leadership challenges to growing and scaling companies, known as "The Swirl." In this straightforward book, he draws on decades of experience guiding teams to implement strategic change at companies like Edward Jones, GENEWIZ, Hitachi, Pfizer, Johnson & Johnson, Mars, and Chicos. In this book you will learn: to understand and lead disruptive change in a complex social system—your company; ways to visualize and diagnose the essential working parts of a company; how to apply an integrated toolset for teams to lead organizational change and business transformation; how to create transformational journey maps that leaders, teams, businesses, and companies must apply to unleash growth potential and agility; and how networks of teams should work together to develop each other's leadership and to manage and accelerate change.
About the Author
Richard S. Hawkes is the Founder of Growth River, an international consultancy that guides leaders and teams to create higher performance in businesses and organizations. Its practical mission is to make high-­performing ways of working easier. He works with companies to identify and resolve constraints to success, including Edward Jones, Genewiz, Hitachi, Pfizer, Johnson & Johnson, and Mars. He sees purpose-driven, customer-­focused, team-based, multi-stakeholder businesses as our best bet for solving the big problems.
In this Audiobook
Introduction: The Swirl

Chapter 1 - Understanding Organizations

Chapter 2 - Understanding Businesses

Chapter 3 - Understanding Growth

Chapter 4 - The Four Stages of Enterprise Evolution

Chapter 5 - A Business Is Born

Chapter 6 - A Leader Steps Up

Chapter 7 - A 5:30 Wake-Up Call

Chapter 8 - A Complete System of Roles

Chapter 9 - Leveraging Creative Tension

Chapter 10 - High-Performing Teams

Chapter 11 - Toward a Flat, Agile Organization

Chapter 12 - Organizations Evolve at the Speed of Conversation

Chapter 13 - Conversation 1: Activating Purpose

Chapter 14 - Conversation 2: Driving Focus

Chapter 15 - Conversation 3: Shifting Mindset

Chapter 16 - Conversation 4: Specifying Capabilities and Roles

Chapter 17 - Conversation 5: Streamlining Interdependencies

Chapter 18 - Conversation 6: Aligning Strategies

Chapter 19 - Conversation 7: Implementing Initiatives

Chapter 20 - An Invitation to Transformation