One Fair Wage: Ending Subminimum Pay in America
5h 33m 17s

Saru Jayaraman
Recorded Books, Inc.
2022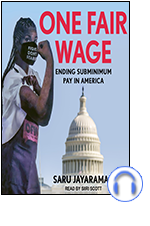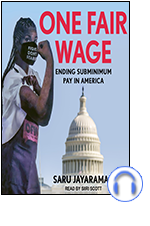 Before the COVID-19 pandemic devastated the country, more than six million people earned their living as tipped workers in the service industry. They served us in cafes and restaurants, they delivered food to our homes, they drove us wherever we wanted to go, and they worked in nail salons for as little as $2.13 an hour—the federal tipped minimum wage since 1991—leaving them with next to nothing to get by.
These workers, unsurprisingly, were among the most vulnerable workers during the pandemic. As businesses across the country closed down or drastically scaled back their services, hundreds of thousands lost their jobs. As in many other areas, the pandemic exposed the inadequacies of the nation's social safety net and minimum-wage standards.
One of New York magazine's "Influentials" of New York City, one of CNN's Visionary Women in 2014, and a White House Champion of Change in 2014, Saru Jayaraman is a nationally acclaimed restaurant activist and the author of the bestselling Behind the Kitchen Door. In her new book, One Fair Wage, Jayaraman shines a light on these workers, illustrating how the people left out of the fight for a fair minimum wage are society's most marginalized. They epitomize the direction of our whole economy, reflecting the precariousness and instability that is increasingly the lot of American labor.
About the Author
Saru Jayaraman is the co-founder of the Restaurant Opportunities Centers United, director of the Food Labor Research Center at the University of California, Berkeley, and the author of Behind the Kitchen Door, Forked: A New Standard for American Dining, and One Fair Wage: Ending Subminimum Pay in America (The New Press).
In this Audiobook
Introduction

Chapter 1 - The History of Subminimum Wages

Chapter 2 - Trupti: Serving with Sexual Harassment "Take off your mask so I know how much to tip you"

Chapter 3 - Teto: Jim Crow Segregation for Tipped Workers "Once a busser, forever a busser"

Chapter 4 - Dia and Adrinne: Parking and Airport Attendants for a Living Wage "A lot of people think our job is easy"

Chapter 5 - Yenelia: Nail Salon Technicians Struggling to Get By "The customers don't say thank you, but they want perfection"

Chapter 6 - Debbie and Marshan: Working While Incarcerated "It's literally slave labor"

Chapter 7 - Vianne: Delivery Workers Seek Respect "You are not going to talk to me like this"

Chapter 8 - Angel: Driving for the Subminimum "They give you very little as a company"

Chapter 9 - Frances and Fiona: Workers with Disabilities and Youth Workers Want Equal Pay