Rapid Mass Engagement: Driving Continuous Improvement through Employee Culture Creation
7h 54m 11s

Frank Devine
Recorded Books, Inc.
2023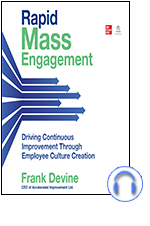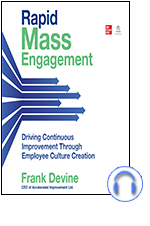 Providing everything you need to boost individual, team, and organizational performance, Rapid Mass Engagement delivers a new, more effective approach to creating a solid corporate culture that fuels long-term business success.
Continuous improvement expert Frank Devine has been helping top companies develop effective business cultures for decades, and now he shares his secrets with you. Devine walks you through the process of strategically combining leadership, engagement, and continuous improvement to turbocharge profitability and drive business sustainability. Chapters include: Rapid Mass Engagement: Results and Differentiation, Culture Change Overview and Methodology, Engaging Employees Around Purposeful Work, Ownership and Accountability: Why Values Alone are Insufficient, Leadership that Moves the Dial, and Sustainable Change.
Presenting data and first-hand accounts from senior business leaders proving the effectiveness of his approach in the real world, Devine addresses the yearning for purpose, authenticity, and trust among employees with a bottom-up, socially impactful, commercially realistic approach to social conflict and divisiveness.
About the Author
Frank Devine worked at Shell, Unilever, Alvis, ABB, Fiat and CarnaudMetalBox before creating his culture-change consultancy in 1996. Specializing in developing cultures of continuous improvement through strategic employee engagement, he has served a wide array of industry-leading clients, including Coca-Cola, Johnson & Johnson, Rolls Royce, GSK, Britvic, Bacardi, Boston Scientific, and Seagate Technology.
In this Audiobook
Introduction: Key Challenge for Senior Leaders

Chapter 1 - How RMEI is Different

Chapter 2 - Why This Matters: The Increased Yearning for Purpose and Meaning at Work

Chapter 3 - Designing Your Culture Change

Chapter 4 - What Are We Engaging Our Employees About? Not Just Purpose, Higher Purpose

Chapter 5 - Changing Culture Within Weeks: The Rapid Mass Engagement Process

Chapter 6 - Ownership and Accountability: Why Values Alone Are Insufficient

Chapter 7 - Leadership That Moves the Dial

Chapter 8 - Signaling Commitment

Chapter 9 - Rapid Yes-but Sustainable?

Chapter 10 - Why RME Has Suboptimized

Chapter 11 - Opening the Door for Logic and Science

Chapter 12 - RME Key Success Factors

Chapter 13 - Postscript