The Human Cloud: How Today's Changemakers Use Artificial Intelligence and the Freelance Economy to Transform Work
6h 15m 26s

Matthew Douglas Coatney, Matthew Mottola
HarperCollins Leadership
2021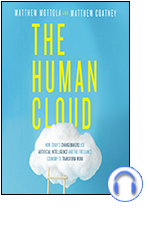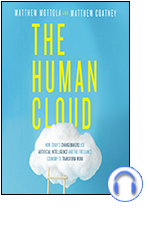 Empower yourself with the knowledge to keep up with the rapidly changing technical world of work, as two workforce productivity and technology experts lay out a clear picture of the?coming?revolution?in how work is done and how jobs are shaped.
If you listen to the news, robots are coming for your job. Full-time employment will soon be a thing of the past as organizations opt more to hire employees on a contract basis.?With technological advances across email, video, project management, and instant messaging platforms, being tied to a desk working full time for one company is becoming obsolete. So, where does that leave you?
The Human Cloud may be the most important book you read to prepare for how work is done in the future. In these pages, human cloud technologist Matthew Mottola and AI expert Matthew Coatney help you not only clearly understand the transition you see happening around you, but they will also help you take advantage of it.
In The Human Cloud, Mottola and Coatney inform you about topics including:
How employees and employers will be able to take advantage of the new automated and freelance-based workplace.
How they will be able to take advantage of the new technology disruptions the machine cloud will create.
Why the changes employees and employers are seeing aren't the projection of doom that many are predicting.
How to navigate the coming job marketplace.
By replacing fear with knowledge, you will better understand how this shift in employment is a good thing, be equipped to embrace the positive?advantages new technology brings, and further secure how your own job is shaped so you are never left behind.
About the Author
Matthew Mottola builds the technology that brings the human cloud to market. He cofounded and is the CEO of Venture L – the operating system where today's top freelancers run their business. At Microsoft, he built the Microsoft 365 freelance toolkit, bringing Microsoft from nascent to an industry leader. As a product leader, serial entrepreneur, and keynote speaker, his work has been broadly adopted by individuals, startups, SMB's, and Fortune 100's.
Matthew Coatney has 25 years of experience bringing AI and automation technologies to market in a variety of industries and for some of the largest global organizations. He has held a number of executive, product, and technology roles during his career and currently serves as CTO for a large consultancy and managed services provider. He is a frequent speaker and author on AI and the future of automation, including a TEDx Talk.
In this Audiobook
Introduction

Chapter 1 - The Office Is Broken

Chapter 2 - Rise of the Changemaker

Chapter 3 - Rise of the Human Cloud

Chapter 4 - Why Changemakers Are Moving to the Human Cloud

Chapter 5 - How Changemakers Are Thriving in the Human Cloud

Chapter 6 - Why Tapping into the Human Cloud Is the New Corner Office

Chapter 7 - How to Tap into the Human Cloud

Chapter 8 - Why Organizations Embrace the Human Cloud

Chapter 9 - How Organizations Embrace the Human Cloud

Chapter 10 - What's on the Horizon for the Human Cloud

Chapter 11 - Rise of the Machine Cloud

Chapter 12 - How to Work in the Machine Cloud

Chapter 13 - Tapping into the Machine Cloud

Chapter 14 - Unlocking the Machine Cloud in Organizations

Chapter 15 - What's on the Horizon

Chapter 16 - Release the Changemaker