The Long Summer: How Climate Changed Civilization
9h 36m 3s

Brian Fagan
Blackstone Audio, Inc. dba Blackstone Publishing
2022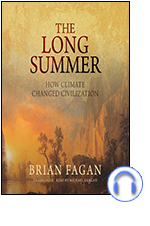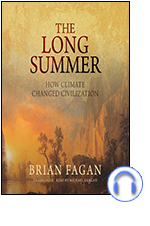 For more than a century, we've known that much of human evolution occurred in an Ice Age. Starting about fifteen thousand years ago, temperatures began to rise, the glaciers receded, and sea levels rose. The rise of human civilization and all of recorded history occurred in this warm period, known as the Holocene. Until very recently, we had no detailed record of climate changes during the Holocene.
Now we do. In this engrossing and captivating look at the human effects of climate variability, Brian Fagan shows how climate functioned as what the historian Paul Kennedy described as one of the "deeper transformations" of history—a more important historical factor than we understand.
About the Author
Brian Fagan is Emeritus Professor of Anthropology at the University of California, Santa Barbara. A former Guggenheim Fellow, he has written many internationally acclaimed popular books about archaeology, including The Little Ice Age , Floods, Famines, and Emperors , and The Long Summer . He lives in Santa Barbara, California.
In this Audiobook
Chapter 1 - The Threshold of Vulnerability

Chapter 2 - The Late Ice Age Orchestra, 18,000 to 13,500 B.C.

Chapter 3 - The Virgin Continent, 15,000 to 11,000 B.C.

Chapter 4 - Europe During the Great Warming, 15,000 to 11,000 B.C.

Chapter 5 - The Thousand-Year Drought, 11,000 to 10,000 B.C.

Chapter 6 - The Cataclysm, 10,000 to 4000 B.C.

Chapter 7 - Droughts and Cities, 6200 to 1900 B.C.

Chapter 8 - Gifts of the Desert, 6000 to 3100 B.C.

Chapter 9 - The Dance of Air and Ocean, 2200 to 1200 B.C.

Chapter 10 - Celts and Romans, 1200 B.C. to A.D. 900

Chapter 11 - The Great Droughts, A.D. 1 to 1200

Chapter 12 - Magnificent Ruins, A.D. 1 to 1200

Chapter 13 - Epilogue, A.D. 1200 to Modern Times