Apple Watch For Dummies, 4th Edition
5h 8m

Marc Saltzman
John Wiley & Sons (US)
2021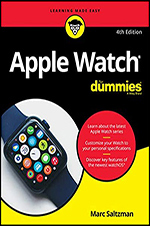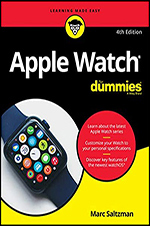 So you've bought an Apple Watch and you've been having a really great time talking to your wrist, but now you're wondering what other sorts of fun trouble you can find. For that, the updated edition of Apple Watch For Dummies is your perfect guide, providing a friendly overview of the latest series of Apple Watches on the new OS. Whatever you want to achieve―peak health via sleep-tracking and an app-based fitness plan, the ability to navigate your way out of a scary forest at night using the GPS and torch functions, or just a convenient method of finding your iPhone―everything you need to know about the amazing device on your wrist is right here at your fingertips.
Marc Saltzman―journalist, lecturer, TV personality, and host of "Gear Guide," a tech-focused video that reaches 60 million viewers a year―expertly guides you through the wrist-based virtual world opened up by Apple's compact wonder-gadget, taking you from the basics of the interface and buttons, through to practical applications like Apple Pay, and then on to the nifty stuff, like chatting to friends on Walkie Talkie, checking your blood oxygen levels, or unlocking your hotel room door with a casual flick of your wrist.
Get au fait with display and buttons
Keep in touch via calls, texts, and more
Manage your media, finances, health, work, and more
Dive into the wonderful world of apps
Whatever it is you think you'll use your Apple Watch for, you'll end up doing much, much more.
In this Book
Watch This: Introducing Apple Watch

Time Out: Setting Up Your Apple Watch

Control Freak: Mastering Apple Watch's Interface and Apps

It's about Time: Learning How to Set Watch Faces, Alarms, Timers, and More

Keep in Touch: Using Apple Watch for Calls, Messages, Texts, Walkie-Talkie, Emails, and More

In the Know: Staying Informed with Apple Watch

Siri Supersized: Gaining the Most From Your Personal Assistant

Fitness Fun and Happy Health: Apple Watch is Your Workout Buddy and Digital Doctor

Mucho Media: Managing Your Music, Movies, Apple TV, and More

Pay for Play: Making Mobile Payments with Apple Watch

App It Up: Customizing Apple Watch with Awesome Apps and More

Extra! Extra! Having Fun with Apple Watch

Ten Cool Things to do with Your Apple Watch
YOU MIGHT ALSO LIKE