Leaderocity : Leading at the Speed of Now
2h 45m

Richard Dool
Business Expert Press
2020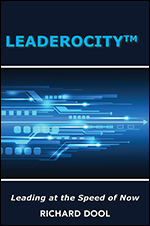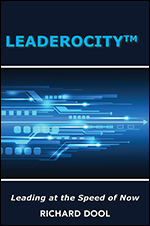 This book explores the intersections between leadership and velocity (the speed of now) to identify key leadership competencies needed for the 21st Century. We offer a set of ten competencies that may serve as a foundation of effective leadership that emerged from our experiences, interviews with 30 leaders, and research. These competencies may be especially timely in the midst of the global COVID-19 crisis and the need for effective leadership at all levels.
We can see both the critical need for these competencies as well as the stark contrasts in practice – those leaders who are rising to the moment and others whose lacking is disappointingly notable. We hope this book may enable leaders to establish their leadership brand and enhance their leadership practices.
About the Author Dr. Richard Dool is currently the Managing Director of Leaderocity, LLC. His consulting practice focuses on: leadership communication, strategic development and organizational renewal. After his executive corporate career, he decided to pivot and pay it forward in academia. Dr. Dool is on the faculty at Rutgers University where he is the Director of the Masters in Communication and Media and the Masters in Health Communication and Information programs. Dr. Dool has a MA in Strategic Communication and Leadership, a MS in Management and a Doctorate in Management/Organizational Processes.
In this Book
Introduction

Context—The Speed of Now

Leader as Visionary

Leader as Communicator

Leader as Exemplar

Leader as Inclusionist

Leader as Ambassador

Leader as Change Agent

Leader as Connector

Leader as Talent Manager

Leader as Coach and Mentor

Leader as Producer

Bringing It All Together

Reference