Learning That CLICS: Using Behavioral Science for Effective Learning Design
2h 37m

Janet Ahn, Jon Thompson, Mary F. Slaughter
Association for Talent Development
2022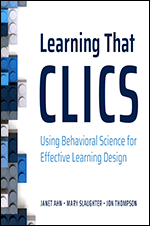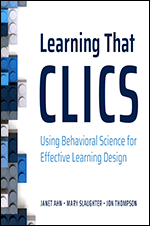 Make Learning Stick Through Deeper Analysis
Achieving lasting learning starts with understanding our psychology—how we process, retain, and apply learning in our everyday work. It also starts with understanding how our brains work and how they receive, process, encode, and recall information—the essence of learning. Without factoring in these realities, behavior change at scale will remain unnecessarily difficult.
Learning That CLICS: Using Behavioral Science for Effective Design introduces the CLICS framework, a concise, practical way to apply behavioral science to the art of learning design. Created by learning practitioners for learning practitioners, the CLICS framework is a five-step approach that deepens analysis and increases the likelihood that learning will occur.
Capacity considers our brain's cognitive space for learning given our current work priorities. Layering fills in learning gaps and the knowledge we need before integrating new concepts. Intrinsic enablers address motivation and personal relevance. Coherence ensures the "fit" of concepts with one another as well as how new concepts will relate to past learning experiences. Social connections—peers, managers, experts, and others in our work environment—offer feedback and modeling, helping us to learn optimally and be effective. Once we appreciate how our brains learn, our ability to conduct a CLICS analysis can promote giant leaps forward and ensure learning that lasts.
About the Author
Dr. Janet Ahn is an experienced experimental social psychologist preparing some of the world's biggest organizations for the challenges of tomorrow and believes in the power of behavioral science to transform lives and companies.
As the chief behavioral science officer at Mind Gym, Janet leverages her behavioral science expertise to lead Mind Gym's global product innovation, research and development, and digital solutions expansion, including on topics such as how leaders can effectively manage teams in a hybrid workplace, organizational responsibility for individual employee wellbeing, management and leadership development, and diversity, equity, and inclusion. Janet has built a portfolio of consulting, teaching, and research expertise in behavior change, motivation and persistence, goal pursuit, growth mindset, cognitive biases, inter-/intra- group/team dynamics, survey methods and assessment, experimental methods, statistics, and design. She is a sought-after speaker and subject matter expert at academic and industry conferences. Her work has also been featured in various media outlets such as Axios, Women's Health Magazine, NPR, American Educator, Business Insider, CBS, and USA Today.
Mary F. Slaughter is a seasoned corporate executive, human capital consultant, and published author. Her global enterprise roles have included chief learning officer, chief talent officer, global head of employee experience, chief diversity and inclusion officer, and chief human resources officer. In addition to consulting with Fortune 100 firms on their talent agendas, Mary has worked for such notable brands as AT&T, Lucent Technologies, Wachovia, SunTrust, Morningstar, The NeuroLeadership Institute, Deloitte, and EY. Her executive advisory roles have including the Association for Training Development (ATD) Board of Directors, Bersin by Deloitte's Advisory Council, and The Conference Board's Council on Learning, Development and Organizational Performance. She had also specialized in advising women CEOs leading start-ups in Silicon Valley.
A frequent industry speaker, Mary has been featured in Harvard Business Review, Business Insider, PwC's strategy+ business, Fast Company, Quartz, Reworked, Talent Management, T+D, CLO, Selling Power and Consulting magazines. Under her leadership, her teams have won awards from Bersin & Associates for leadership development, Brandon Hall for sales talent management, CLO Magazine for academic partnerships, Training Magazine's Top 125, ATD BEST for exceptional enterprise learning and Consulting Magazine as one of the top management consulting firms for building a career.
Mary resides in Atlanta with her amazing daughters who brighten her life every day.
Jon Thompson, A Senior Learning & Development professional with 25 years of industry experience working for small start-ups all the way through global corporations across multiple verticals. I currently specialize in initiatives focusing on Learning Strategy/Architectural Design and Learning Transformations with a focus on technology-enablement.
In this Book
Prologue—Standing on a Foundation of Continual Change

Discovering CLICS—A Stronger Approach to Analysis

Our Brains and the Science of Learning

Applying Capacity

Applying Layering

Applying Intrinsic Enablers

Applying Coherence

Applying Social Connections

The CLICS Tool in Total

CLICS in Design and Development

The Future of Workplace Learning

References
YOU MIGHT ALSO LIKE
Rating 4.7 of 3219 users
(3219)