Organic Coatings: Science and Technology, 4th Edition
20h 23m

Frank N. Jones, Mark E. Nichols, Socrates Peter Pappas
John Wiley & Sons (US)
2017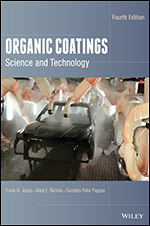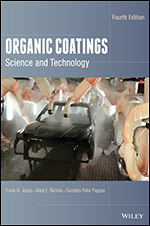 The definitive guide to organic coatings, thoroughly revised and updated—now with coverage of a range of topics not covered in previous editions
Organic Coatings: Science and Technology, Fourth Edition offers unparalleled coverageof organic coatings technology and its many applications. Written by three leading industry experts (including a new, internationally-recognized coatings scientist) it presents a systematic survey of the field, revises and updates the material from the previous edition, and features new or additional treatment of such topics as superhydrophobic, ice-phobic, antimicrobial, and self-healing coatings; sustainability, artist paints, and exterior architectural primers. making it even more relevant and useful for scientists and engineers in the field, as well as for students in coatings courses.
The book incorporates up-to-date coverage of recent developments in the field with detailed discussions of the principles underlying the technology and their applications in the development, production, and uses of organic coatings. All chapters in this new edition have been updated to assure consistency and to enable extensive cross-referencing. The material presented is also applicable to the related areas of printing inks and adhesives, as well as areas within the plastics industry.
This new edition
Completely revises outdated chapters to ensure consistency and to enable extensive cross-referencing
Correlates the empirical technology of coatings with the underlying science throughout
Provides expert troubleshooting guidance for coatings scientists and technologists
Features hundreds of illustrative figures and extensive references to the literature
A new, internationally-recognized coatings scientist brings fresh perspective to the content.
Providing a broad overview for beginners in the field of organic coatings and a handy reference for seasoned professionals, Organic Coatings: Science and Technology, Fourth Edition, gives you the information and answers you need, when you need them.
About the Author
FRANK N. JONES is a consultant and an Emeritus Professor at Eastern Michigan University, where he was Director, of the National Science Foundation Industry/University Cooperative Research Center in Coatings. Previously he was Professor and Chair of the Department of Polymers and Coatings at North Dakota State University.
MARK E. NICHOLS is currently Technical Leader, Paint and Corrosion Research at the Ford Motor Company and the Editor-in-Chief of the Journal of Coatings Technology and Research. He is the recipient of the Industry Excellence Award from the ACA as well as a Roon Award.
SOCRATES PETER PAPPAS is a consultant. Previously he was Corporate Scientist at Kodak Polychrome Graphics, Director of Chemical Imaging at Polychrome Corporation, Scientific Fellow at Loctite Corporation, and Professor at North Dakota State University in the Departments of Chemistry, as well as Polymers and Coatings.
In this Book
Preface

Introduction to Coatings

Polymerization and Film Formation

Flow

Mechanical Properties

Exterior Durability

Adhesion

Corrosion Protection by Coatings

Acrylic Resins

Latexes

Polyester Resins

Amino Resins

Polyurethanes and Polyisocyanates

Epoxy and Phenolic Resins

Drying Oils

Alkyd Resins

Silicon Derivatives

Other Resins and Cross‐Linkers

Solvents

Color and Appearance

Pigments

Pigment Dispersion

Effect of Pigments on Coating Properties

Application Methods

Film Defects

Solventborne and High Solids Coatings

Waterborne Coatings

Electrodeposition Coatings

Powder Coatings

Radiation Cure Coatings

Product Coatings for Metal Substrates

Product Coatings for Nonmetallic Substrates

Architectural Coatings

Special Purpose Coatings

Functional Coatings