Ruthlessly Caring: And Other Paradoxical Mindsets Leaders Need to be Future-Fit
4h 19m

Amy Walters Cohen
John Wiley & Sons (US)
2023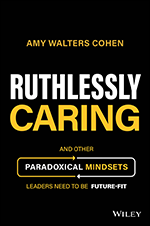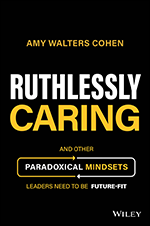 A startlingly insightful exploration of contemporary leadership
In Ruthlessly Caring: And other paradoxical mindsets leaders need to be future-fit, leadership strategist Amy Walters Cohen delivers a one-of-a-kind insight into contemporary business leadership. In the book, you'll explore how the leadership environment is being radically redefined by 12 megatrends and how five paradoxical mindsets are necessary to achieving high performance and effective decision making in this new era of business. From ambitious appreciation to political virtue, humble confidence, and responsible daring, you'll discover how to develop and expand your leadership identity. Whilst being heavily based in research, this revolutionary approach takes a practical look at the day-to-day realities of leading in business, offering fresh insight into how to tackle tough decisions, change behaviour, and evolve habits to become future-fit and thrive in a modern environment.
The author shows you how to:
Weave together multiple, seemingly contradictory, mindsets to enhance decision making and day-to-day leadership
Adapt to the megatrends that are driving much of the change we see throughout the world
Shake up the thinking, habits, and behaviours that are holding you back from unleashing your full potential as a leader
An indispensable roadmap to leading modern organisations, Ruthlessly Caring is a must-read for c-suite executives, directors, senior managers, and aspiring business leaders who hope to perform well in their role and get the best out of themselves and the people they lead.
About the Author
AMY WALTERS COHEN is a Head of Research within one of the largest professional services networks in the world, and responsible for delivering rigorous, cutting-edge thought leadership insight into pressing business issues. With nearly 10 years' experience working in applied psychology, she has led an array of research projects and generated fresh insight into topic areas including: the future of leadership, digital transformation, the future of learning, hybrid working, 21st century career development, organisational culture change, and team performance in a disruptive age. Amy is also a visiting lecturer at the University of Bath.
In this Book
Megatrends That are Reshaping the World

The Five Paradoxical Mindsets Offuture-Fit Leadership

Ruthlessly Caring

Ambitiously Appreciative

Politically Virtuous

Confidently Humble

Responsibly Daring

Developing and Expanding Your Leadership Identity
YOU MIGHT ALSO LIKE
Rating 4.6 of 1565 users
(1565)