SAP Activate: Project Management for SAP S/4HANA and SAP S/4HANA Cloud, 2nd Edition 2022
9h 30m

Jan Musil, Srivatsan Santhanam, Sven Denecken
Rheinwerk Publishing Inc.
2022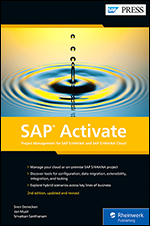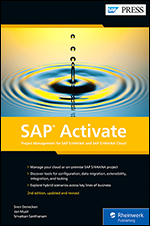 Planning your SAP S/4HANA implementation project? This book has the expert guidance you need for every step of the journey! Learn about SAP Activate, including key concepts, the methodology, and supporting technologies. Understand your workstreams for configuration, data migration, extensibility, and more—then dive into deployment. Walk through the key phases and deliverables for your project, whether you're performing a new implementation or system conversion, and see what's possible with a two-tier ERP setup. Get ready for a successful go-live!
Manage your cloud or on-premise SAP S/4HANA project
Discover tools for configuration, data migration, extensibility, integration, and testing
Explore hybrid scenarios across key lines of business
About the Author
Sven Denecken is the chief operating officer (COO) of SAP S/4HANA and the head of product success. In his role as COO, Sven is responsible for business operations, developing the organization and its people, controlling, and communications for the SAP S/4HANA unit.
Jan Musil is the SAP Activate chief product owner at SAP. Jan leads a team of experienced product managers who design, build, and maintain SAP Activate, the innovation adoption framework that guides SAP customers and partners in their deployment of SAP solutions, including SAP S/4HANA, SAP SuccessFactors, SAP Ariba, SAP Analytics Cloud, and more.
Srivatsan Santhanam has been with SAP Labs, India, since 2004 where he is the head of the SAP Concur engineering product unit.
In this Book
Notes on Usage

Notes on the Screen Presentation

Foreword

SAP S/4HANA Fundamentals

Introduction to SAP Activate

Accessing SAP Activate

Starting with a Working System

Configuration, Data Migration, Extensibility, Integration, and Testing

Agile Project Delivery

New Implementation of SAP S/4HANA

System Conversion and Selective Data Transition to SAP S/4HANA

Deploying Hybrid System Landscapes

Organizational Change Management

SAP Activate for other SAP Products

Service Pages

Legal Notes

The Document Archive
PEOPLE WHO VIEWED THIS ALSO VIEWED THESE
Rating 4.4 of 163 users
(163)