Startup Program Design: A Practical Guide for Creating Accelerators and Incubators at Any Organization
7h 14m

Adam Berk, Paolo Lombardi
McGraw-Hill
2022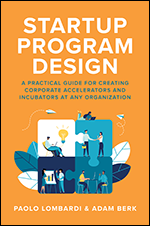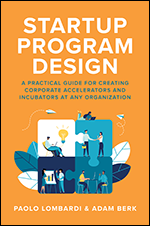 Design and execute a powerful startup program that delivers value for all parties involved
Startup accelerators. Business incubators. Hackathons. These are the hallmarks of the innovation ecosystem development practices used to discover, launch, and scale the most forward-looking startups of the last decade. If you want to adopt these approaches to your own business but aren't sure how to implement them, now's the time to master the practices of today's most successful early-stage investors.
In Startup Program Design, two seasoned veterans deeply versed in startup engagement programs provide you with the tools to introduce open innovation practices to your organization.
While other books on innovation management tend to be conceptual at the expense of hands-on experience, Startup Program Design is a practical manual vertically focused on preparing the organization, identifying the right strategy, and designing an attractive and effective offer.
Filled with real-world examples, interviews with program managers, lessons learned, and diagrams and canvases that outline a step-by-step logical sequence, Startup Program Design points you toward results that are scalable and repeatable.
Whether you're an innovation manager, executive, consultant, service designer, business owner, or startup community activist, this first-of-its-kind guide offers a radical new framework for true innovation.
About the Author
Paolo Lombardi is Partner at tree, a premium open innovation and consulting agency. He has designed and managed over 20 startup incubation and acceleration programs for such organizations as the European Commission and the World Bank.
Adam Berk is a lead mentor at Google Launchpad and a faculty member at Lean Startup Co. He was a consultant at Pearson and part of the team that designed and implemented "Product Lifecycle" an award-winning innovation program.
In this Book
Introduction

A Word of Gratitude

Startup Engagement

Context-Aware Design

Objective—Growth

Objective—Solution Sourcing

Objective—Ecosystem Building

Objective—Entrepreneurship for Impact

Design Your Program

Circle 1—Uniqueness and Readiness

Circle 2—Objectives

Circle 3—Target Startups

Capturing Value

Value Proposition

Structure and Schedule

Selection

Content

Systems of Programs

Outsourcing the Program

The Future of Startup Programs

Notes