HBR Guide to Building Your Business Case
2h 57m 19s

Amy Gallo, Raymond Sheen
Gildan Media
2022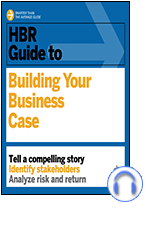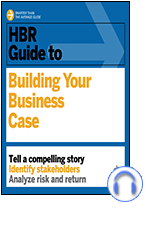 Get your idea off the ground.
You've got a great idea that will increase revenue or boost productivity―but how do you get the buy-in you need to make it happen? By building a business case that clearly shows your idea's value. That's not always easy: Maybe you're not sure what kind of data your stakeholders will trust. Or perhaps you're intimidated by number crunching.
The HBR Guide to Building Your Business Case, written by project management expert Raymond Sheen, gives you the guidance and tools you need to make a strong case. You'll learn how to:
Spell out the business need for your idea
Align your case with strategic goals
Build the right team to shape and test your idea
Calculate the return on investment
Analyze risks and opportunities
Present your case to stakeholders
About the Author
Raymond Sheen, PMP, is the president of Product & Process Innovation, a consulting firm specializing in project management, product development, and process improvement. Amy Gallo is a contributing editor at Harvard Business Review and is the author of the forthcoming HBR Guide to Managing Conflict at Work.
Amy Gallo is a workplace expert who writes and speaks about gender, interpersonal dynamics, difficult conversations, feedback, and effective communication. She works with individuals and teams to help them better collaborate, communicate, and transform their culture to support dissent and debate.
Gallo is the author of: Getting Along: How to Work with Anyone (Even Difficult People) and the HBR Guide to Dealing with Conflict. She has written hundreds of articles for Harvard Business Review, where she is a contributing editor. Her writing has been collected in numerous books including ones on feedback, emotional intelligence, and managing others.
For the past three years, Amy has co-hosted HBR's popular Women at Work podcast, which examines the struggles and successes of women in the workplace.
Gallo has delivered keynotes and workshops at hundreds of companies and conferences. Plus, she is frequently sought out by media outlets for her perspective on workplace dynamics, conflict, and difficult conversations. Her advice has been featured in The New York Times, Fast Company, Marketplace, and The Austin American-Statesman, as well as on WNYC, the BBC, and ABC (Australian Broadcasting Corporation).
She has taught at Brown University and the University of Pennsylvania and is a graduate of both Brown and Yale University.
In this Audiobook
Introduction

Chapter 1 - Know the Basics of Making a Case

Chapter 2 - Learn How Your Company Evaluates Cases

Chapter 3 - Figure Out Who's Calling the Shots

Chapter 4 - Understand Your Audience's Objectives

Chapter 5 - Clarify the Need

Chapter 6 - Build a Cross-Functional Team

Chapter 7 - Consider Alternatives

Chapter 8 - Think Through the "How" at a High Level

Chapter 9 - Estimate Costs and Benefits

Chapter 10 - Calculate ROI

Chapter 11 - Account for Risks

Chapter 12 - Prepare Your Document

Chapter 13 - Shop Your Case Around

Chapter 14 - Are You Ready to Present?

Chapter 15 - Make Your Pitch

Chapter 16 - Get to a Decision

Chapter 17 - What Next?