Results: Getting Beyond Politics to Get Important Work Done
7h 36m 22s

Charlie Baker, Steve Kadish
Recorded Books, Inc.
2022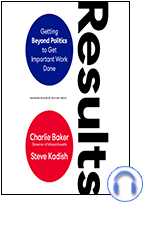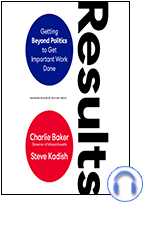 Governor Charlie Baker, one of the most popular governors in the United States, with a reputation for getting things done, wants to put the service back into public service: "Wedge issues may be great for making headlines," he writes, "but they do not move us forward. Success is measured by what we accomplish together. Our obligation to the people we serve is too important to place politics and partisanship before progress and results."
For the Governor and his longtime associate Steve Kadish, these words are much more than political platitudes. They are at the heart of a method for delivering results—and getting past politics—the two developed while working together in top leadership positions in the public and private sectors.
Distilled into a four-step framework, Results is the much-needed implementation guide for anyone in public service, as well as for leaders and managers in large organizations hamstrung by bureaucracy and politics. With a broad range of examples, Baker, a Republican, and Kadish, a Democrat, show how to move from identifying problems to achieving results in a way that bridges divides instead of exacerbating them. They show how government can be an engine of positive change and an example of effective operation, not just a hopeless bureaucracy.
About the Author
Charlie Baker is Governor of Massachusetts. He has served as CEO of Harvard Pilgrim Health Care, a top-performing health care insurance provider, and twice as Commonwealth of Massachusetts Cabinet Secretary leading the Executive Office of Health & Human Services and the Executive Office of Administration & Finance. Steve Kadish has served as CFO, COO, and in other senior leadership roles in health care and higher education in both the public and the private sectors. He served as Governor Baker's first chief of staff. Steve is a Senior Research Fellow at Harvard's Kennedy School of Government.
In this Audiobook
Introduction: Reality

Chapter 1 - People Are Policy

Chapter 2 - Follow the Facts

Chapter 3 - Focus on How

Chapter 4 - Push for Results

Chapter 5 - From Worst to First: Health Care

Chapter 6 - Managing a Recovery: Transportation

Chapter 7 - An Agency Turnaround: Child Welfare

Chapter 8 - Managing through a Pandemic: Covid-19

Epilogue: Possibility