The Presentation Coach: Bare Knuckle Brilliance For Every Presenter
8h 18m 33s

Graham G. Davies
Gildan Media
2010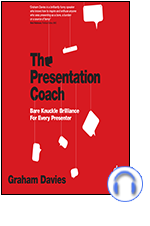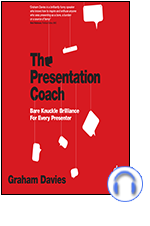 You probably hate giving presentations; you probably hate listening to them too. Why? Because most business presentations are too long, too detailed, too boring, and submerged under a blizzard of PowerPoint. But the single most important presentational tool known to man isn't a slideshow; it's you.
Whether you're speaking to one person across a table, 20 people in a boardroom or 1,000 people in a ballroom, it's all about the words you say and how you say them. The Presentation Coach shows you how to use what you've already got to give you clarity, confidence and impact in every speaking challenge you will ever face.
You'll learn the unique Bare Knuckle five-step process to effective presenting, and how to apply it to all business speaking, from large-scale presentations to one-to-one client meetings. Graham Davies has been coaching high-profile individuals from the worlds of business, politics and entertainment in exactly these techniques for the past 25 years. Now it's your turn. Graham has used all the experience he has gained from his time as President of the Cambridge Union, a criminal barrister and an international speaker to develop a highly transferable presentation methodology that can be adapted to any situation.
He is the joint founder of the consultancy Straight Talking, which has a fifteen-year track record in presentation coaching for a spectacular client list, including Tesco, IBM, Porsche, KPMG and UBS.
About the Author
Graham Davies is a recovering barrister and ex-President of the Cambridge Union who has become one of the UK's busiest professional speakers and is certainly its most challenging presentation coach. Graham has over 20 years experience in the speaking industry and has worked as a speaker or coach for just under half the FTSE 100. His individual clients include Chief Executives, Celebrities, Olympic athletes and 7 members of the Conservative Front Bench.
He is also the co-founder of Straight Talking, a specialist presentation consultancy focused on bespoke coaching for senior management in High Impact Presentation, Public Speaking and Pitching for Business.
In this Audiobook
CHAPTER 1 - THE ESSENTIALS

CHAPTER 2 - KNOW YOUR AUDIENCE

CHAPTER 3 - MAKE THE STATEMENT

CHAPTER 4 - HARDCORE CONTENT

CHAPTER 5 - WRITE IT, READ IT, EDIT

CHAPTER 6 - FROM FAMOUS FIRST WORDS ...

CHAPTER 7 - NAIL IT ALL DOWN

CHAPTER 8 - SHOW IT ... IF YOU REALLY MUST

CHAPTER 9 - CONTROL YOURSELF

CHAPTER 10 - CONTROL THE DAY

CHAPTER 11 - CONTROL Q & A

CHAPTER 12 - RAISE A SMILE

CHAPTER 13 - ADAPT TO AFTER DINNER

CHAPTER 14 - SHOULD YOU ACCEPT THE INVITATION?

CHAPTER 15 - CHALLENGING BUSINESS SITUATIONS

CHAPTER 16 - CHALLENGING PERSONAL SITUATIONS

KEY BARE KNUCKLE TERMINOLOGY
YOU MIGHT ALSO LIKE