Virtual Collaboration: HBR 20-Minute Manager Series
1h 13m 6s

Harvard Business Review
Gildan Media
2023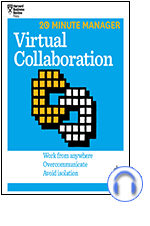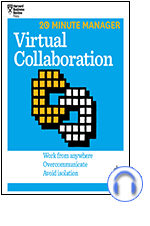 Working remotely gives you flexibility and independence. But it can pose challenges when you need to team up with colleagues or coworkers. Virtual Collaboration covers the basics of working productively—and collaboratively—from anywhere. You'll learn to:
Communicate clearly over a variety of media
Bond with colleagues across the wires
Keep others—and yourself—accountable
Avoid and mitigate tech glitches
Don't have much time? Get up to speed fast on the most essential business skills with HBR's 20-Minute Manager series. Whether you need a crash course or a brief refresher, each book in the series is a concise, practical primer that will help you brush up on a key management topic. Advice you can quickly listen to and apply, for ambitious professionals and aspiring executives—from the most trusted source in business.
About the Author
Harvard Business Review Press is a leading global book publisher and a division of the Harvard Business Review Group. HBR Press publishes for the general, professional, and academic markets on the topics of leadership, strategy, innovation, and management. Recent bestselling titles include HBR's 10 Must Reads on Managing Yourself, Playing to Win, A Sense of Urgency, Leading the Life You Want, Conscious Capitalism, The Founder's Mentality, HBR's 10 Must Reads on Mental Toughness, and The First 90 Days.
In this Audiobook
Chapter 1 - What Is Virtual Collaboration?

Chapter 2 - Clarify Expectations for Your Work

Chapter 3 - Manage Your Technology

Chapter 4 - Build Productive Relationships

Chapter 5 - Communicate Effectively

Chapter 6 - Manage Common Problems