Interactive Reports in SAS(r) Visual Analytics: Advanced Features and Customization
3h 33m

Nicole Ball
SAS Institute
2021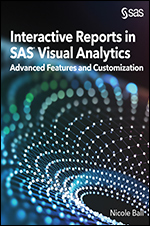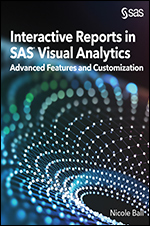 Elevate your reports with more user control and interactive elements
Want to create exciting, user-friendly visualizations to bring greater intelligence to your organization? By mastering the full power of SAS Visual Analytics, you can add features that will enhance your reports and bring more depth and insight to your data. Interactive Reports in SAS Visual Analytics: Advanced Features and Customization is for experienced users who want to harness the advanced functionality of Visual Analytics on SAS Viya to create visualizations or augment existing reports. The book is full of real-world examples and step-by-step instructions to help you unlock the full potential of your reports.
In this book, you will learn how to
create interactive URL links to external websites
use parameters to give the viewer more control
add custom graphs and maps
execute SAS code using SAS Viya jobs
and more!
In this Book
Introduction

Creating Advanced Data Items and Filters

Linking to External Websites

Applying Numeric Parameters

Using Character Parameters

Working with Date Parameters

Using SAS Graph Builder to Create Custom Graphs

Using Data-Driven Content to Create Custom Graphs

Working with Jobs in SAS Visual Analytics

Sharing Reports