From Beauty to Business: The Guaranteed Strategy to Building, Running, and Growing a Successful Beauty Business
7h 32m 55s

Kiyah Wright
Gildan Media
2022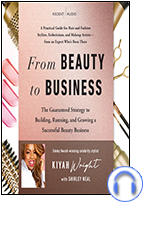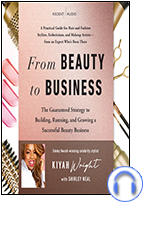 Entrepreneur and celebrity hairstylist Kiyah Wright knows exactly what it takes to amass wealth in the hair and beauty industry. From the time she was just fourteen years old and doing hair in her grandmother's basement for $20 a pop, Kiyah had found her calling. By seventeen, she had 200 clients and netted over $60K a year. Now, twenty-five years later, she's at the top of her game with A-List Hollywood clientele, two Emmy Awards, two Hollywood Beauty Awards, a thriving business, and a million-dollar brand.
In From Beauty to Business, Wright breaks down her seven proven success principles that helped her achieve her goals: developing a success mindset, understanding the business of the beauty business, finding your niche, diversifying with multiple streams of income, growing your platform to grow your profits, preparing for the unexpected, and planning for your future. She also lays out crucial success strategies not taught in hair or beauty schools about entrepreneurship, finance, branding, marketing, product distribution, how to harness the power of social media, and how to build wealth. Whether you're working from your house or a salon, From Beauty to Business will set you up for success with practical tools for thriving in the beauty business on your own terms.
About the Author
Kiyah Wright is a two-time Emmy Award-winning celebrity hairstylist and Image Maker with over two decades of hair care experience and knowledge. In a career that started with doing hair in her grandmother's basement, Kiyah Wright parlayed her talent and business savvy to become not only one of Hollywood's most in-demand celebrity hairstylists, but also a successful beauty expert and entrepreneur.
As a celebrity ambassador for Protctor & Gamble hairlines: Head & Shoulders, Clairol Professional, and Pantene, she continues to inspire with cutting-edge developments. Her penchant for innovative beauty solutions has raised the bar in the industry as proven by her jaw-dropping and highly renowned beauty transformations on stars such as Halle Berry, Tyra Banks, Laverne Cox, Lala, Ciara, Jennifer Hudson, Taraji P. Henson, Kerry Washington, Halsey, Gabrielle Union, and more.
Over the years, Kiyah's works has been featured on hit television shows like Pose, Power, Black-ish, The Late Late Show with James Corden, Celebrity Apprentice, Jimmy Kimmel Live!, America's Next Top Model, and America's Got Talent. In addition, Kiyah's creations have graced the covers of Vanity Fair, GQ, Elle, InStyle, Essence, and Vogue. Alongside her remarkable work schedule, Kiyah still manages to remain loyal to her client base in Los Angeles at her Beverly Hills salon. Kiyah's MUZE HAIR line offers a collection of premium custom wigs, extensions, and more products trusted by Hollywood's hottest celebrities.
In this Audiobook
Introduction

Chapter 1 - Full Dream Ahead

Chapter 2 - Entrepreneurial DNA-Do You Have the Wright Stuff?

Chapter 3 - Have the Courage, Live Out Your Dreams

Chapter 4 - Business Basics 101: Get Started

Chapter 5 - Marketing, Part 1: The Basics

Chapter 6 - The Bigger the Dream, the Bigger Your Team

Chapter 7 - Taxes, Tips, and Tough Lessons

Chapter 8 - The Wright Ways to Manage Your Money

Chapter 9 - Find Your Niche and Build Your Brand

Chapter 10 - Marketing, Part 2: Define Your Niche

Chapter 11 - Secrets of Upselling

Chapter 12 - Getting Freelance Work

Chapter 13 - How to Break into TV and Film

Chapter 14 - Product Lines: From Selling to Launching Your Own

Chapter 15 - Waves to Wigs to Wealth-Taking Your Product Line to the Next Level

Chapter 16 - Marketing Part 3: Platforms and Strategies to Boost Your Brand

Chapter 17 - Attracting Sponsors, Securing Sponsorships

Chapter 18 - Preparing for and Surviving Natural Disasters and Other Crises

Chapter 19 - Growth and Start-up Funding

Chapter 20 - Planning for Retirement

Chapter 21 - A Positive Mindset Breeds Opportunity