HBR's 10 Must Reads 2024: The Definitive Management Ideas of the Year from Harvard Business Review (with bonus article "Democratizing Transformation" by Marco Iansiti and Satya Nadella)
6h 23m 57s

Harvard Business Review
Gildan Media
2023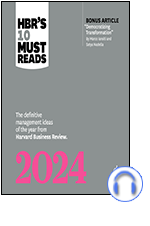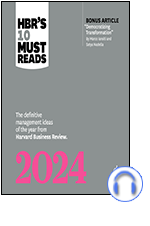 A year's worth of management wisdom, all in one place.
We've combed through the ideas, insights, and best practices from the past year of Harvard Business Review to help you get up to speed fast on the relevant concepts driving business today. Discover new ideas and sample the latest thinking from our vast array of management experts. Revisit these topics now to make sure your organization is incorporating the best, most up-to-date practices, or keep this book as a reference so that you can turn to these memorable pieces when you need them the most. The collection includes articles on leadership, diversity, and strategy, as well as articles that will help you manage yourself and others.
HBR's 10 Must Reads series is the definitive collection of books for new and experienced leaders alike. Leaders looking for the inspiration that big ideas provide, both to accelerate their own growth and that of their companies, should look no further. HBR's 10 Must Reads series focuses on the core topics that every ambitious manager needs to know: leadership, strategy, change, managing people, and managing yourself. Harvard Business Review has sorted through hundreds of articles and selected only the most essential reading on each topic. Each title includes timeless advice that will be relevant regardless of an ever-changing business environment.
About the Author
Harvard Business Review is the leading destination for smart management thinking. Through its flagship magazine, 12 international licensed editions, books from Harvard Business Review Press, and digital content and tools published on HBR.org, Harvard Business Review provides professionals around the world with rigorous insights and best practices to lead themselves and their organizations more effectively and to make a positive impact.
In this Audiobook
Chapter 1 - Managers Can't Do It All by Diane Gherson and Lynda Gratton

Chapter 2 - What Is Web3? by Thomas Stackpole

Chapter 3 - Selling on TikTok and Taobao by Thomas S. Robertson

Chapter 4 - Managing in the Age of Outrage by Karthik Ramanna

Chapter 5 - The Five Stages of DEI Maturity by Ella F. Washington

Chapter 6 - The Essential Link Between ESG Targets and Financial Performance by Mark R. Kramer and Marc W. Pfitzer

Chapter 7 - Make the Most of Your One-on-One Meetings by Steven G. Rogelberg

Chapter 8 - Harnessing the Power of Age Diversity by Megan W. Gerhardt, Josephine Nachemson-Ekwall, and Brandon Fogel

Chapter 9 - The C-Suite Skills That Matter Most by Raffaella Sadun, Joseph Fuller, Stephen Hansen, and PJ Neal

Chapter 10 - Your Company Needs a Space Strategy. Now. by Matthew Weinzierl, Prithwiraj (Raj) Choudhury, Tarun Khanna, Alan MacCormack, and Brendan Rosseau

BONUS ARTICLE Democratizing Transformation by Marco Iansiti and Satya Nadella