Holding the Calm: The Secret to Resolving Conflict and Defusing Tension
4h 3m 18s

Hesha Abrams, Ken Blanchard
Berrett-Koehler Publishers
2022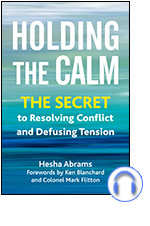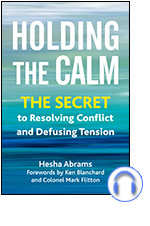 Holding the Calm is a practical and immediately useful guide that meticulously lays out twenty concrete, easy-to-use tools for defusing tension, settling cases, resolving disputes, and rechanneling arguments.
How do you stop conflict? Settle disputes? Handle someone who is yelling at you, crying, or just won't speak? How do you find a solution when a solution seems impossible? Holding the Calm shares the secrets that enable everyone to avoid, minimize, or resolve conflict.
Popular master mediator Hesha Abrams has tens of thousands of hours in the trenches mediating human conflict, and she shares her pragmatic wisdom in digestible bites that detail how to improve situations and solve difficult problems between human beings, from family and workplace disputes to complex commercial and global conflicts. Learn how to
Speak into the ears that hear you
Be the grown-up in the room
Listen to what is not said
Create small, winnable victories
Practical, inspirational, and full of accessible tools you can use right now, Holding the Calm proves that you don't need an advanced degree or certification to minimize challenges and defuse tension between real people, businesses, and countries.
About the Author
Hesha Abrams is the founder of Hesha Abrams Mediation and is an internationally renowned mediator who has successfully resolved thousands of cases over the past thirty years, from simple car accidents to multibillion-dollar disputes involving titans of industry. Abrams received a JD from Florida State University College of Law and went on to become a successful trial lawyer. She is the recipient of many awards, including Corporate Counsel's 2021 top-rated lawyer and the Martindale-Hubbell AV rating. Abrams has spoken at the International Symposium on Negotiation and Conflict Resolution and mediates in countries all over the world.
Ken Blanchard is one of the most influential leadership experts in the world. He is cofounder and chief spiritual officer of The Ken Blanchard Companies, a leading international training and consulting firm, and the coauthor of the iconic bestseller The New One Minute Manager. He has authored more than sixty other books that have combined sales of more than 21 million copies in forty-two languages. In 2005, Blanchard was inducted into Amazon's Hall of Fame as one of the top twenty-five bestselling authors of all time.
In this Audiobook
Introduction: Picking the Right Solution for the Right Situation

Chapter 1 - You Talk to People for a Living?

Chapter 2 - Speak into the Ears That Hear You

Chapter 3 - Almost, Never, Always, Rarely, a Lot

Chapter 4 - How to Listen to What Is Not Said

Chapter 5 - The Magic of Silence

Chapter 6 - High Emotions Are Diagnostics, Not Symptoms

Chapter 7 - There Is No Problem, Only a Solution Waiting to Be Found: Find the Self-Interest

Chapter 8 - Be the Grown-Up in the Room

Chapter 9 - Winning? Or Not Losing? Leave Them with Their Sword

Chapter 10 - When Everything Is Hitting the Fan

Chapter 11 - Us versus Them Mentality-But I Am So Reasonable!

Chapter 12 - "It's a Dollar and She Lives In a Hut": The Dangers of Overnegotiating and Negotiating with Jerks

Chapter 13 - The Blame Game

Chapter 14 - Politeness and Civility Matter

Chapter 15 - We're All Animals in the Zoo

Chapter 16 - A Dozen Roses-Seeking Advice

Chapter 17 - Cultural and Disability Considerations

Chapter 18 - Create Small, Winnable Victories

Chapter 19 - Don't Take No for an Answer

Chapter 20 - Going Postal-Cured

Conclusion-Your Turn
YOU MIGHT ALSO LIKE
Rating 4.6 of 2338 users
(2338)
Rating 4.6 of 65 users
(65)
Rating 4.5 of 757 users
(757)